Friday April 22, 2022
Paint nights are a great way to spend a fun evening with friends, family members, or your significant other. The only problem is that sometimes it can be tricky to come up with fresh ideas.
We've got you covered. In this article, we take a look at 35+ ways you can have lots of fun enjoying beginner easy paint night ideas. Read on for more!
Painting Night Ideas
Paint night is a fun way to break free from the Netflix cycle. Below we look at five ways you can step out of your comfort zone and enjoy a fun evening with some good paint night ideas.
1. Puff Pass and Paint
Puff Pass and Paint is a fun class that infuses cannabis with painting. While it's not active everywhere, it is available in many communities that have legalized recreational cannabis. Take a look at what your community has available and go from there. Find a class near you here >
2. Have a Paint Night at Home
Before you try this out, make sure you have lots of old sheets and newspapers to lay out. Once you've secured the perimeter, have at it! Home paint nights are a fun way to connect with the important people in your life while also getting in touch with your creative side.
3. Sip Wine & Paint
Similar to Puff Pass and Paint, these Sip & Wine classes go by many names. Sipping wine and painting can be done in the form of a formalized class or just tried on a do-it-yourself basis at home.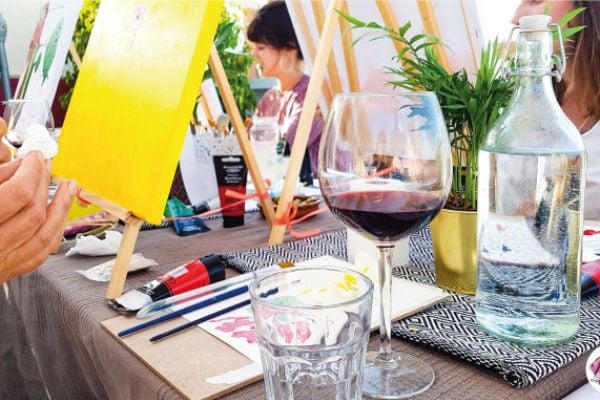 The recipe is pretty simple. Start with paints and blank canvases. Pour yourself some wine & have a great night.
4. Follow a Canvas Painting Tutorial
Guidance can be helpful for novice artists. A canvas painting tutorial video can walk you through all the basic steps that you will need to take to enjoy your first forays into art.
5. Paint a Piece of Furniture
You can go so many direction here. Paint a lamp, a vase, a table, a chair! Whatever you fancy. Not only is it a good way to refresh an older item, but it adds sentimental value, and is just plain fun! Lookup a tutorial video, as there are preparatory steps you will need to take.
Couple Paint Night Ideas
Having a nice couples date night at home with some paints, and perhaps a little wine and cannabis is a great way to get together and socialize. Read on for some good couple of paint night ideas.
1. Paint With Nature
Here's a unique painting idea that comes to you straight from the preschool classroom. Paint with leaves, pinecones, or sticks. They make unique impressions on the page and create an interesting final product.
This is another idea that can benefit from the split canvas concept. Your two abstract paintings can serve as a continuation that flows from one partner's style to the others on the wall demonstrating our disparate personalities and artistic flares.
2. Couples Landscape
Each person paints one-half of the same picture. When the canvases are set side by side, they form a single landscape. It looks cool, and it is a symbol of your harmonious relationship.
3. Paint Your Partner
Having a couples night out where everyone paints their partner can be a fun exercise. Just make sure to keep your picture flattering or you may not get your goodnight kiss.
When the paintings are done, place the canvases next to one another to create a single couple portrait.
4. A Heart
Finally, a heart, the symbol of love. Like all of the items on this list, you can take this on individually, or using the split canvas concept. If you are going to split the picture, consider tracing out half a heart on each canvas before you begin painting.
5. Paint By Numbers
Hey, there's nothing wrong with it. Painting by numbers is a great way to have a relaxing couples night because it is usually pretty easy to follow the instruction. Once you've complete the masterpiece, you'll be able to frame it and even hang it up in the house somewhere.
Paint by number canvases are available at most major craft stores, so you should have no trouble finding options you like. Some companies can even customize the canvases to look like any photograph. Hint, hint, why not paint a picture of you and your partner together?
Weed Painting Ideas
Marijuana lowers your inhibitions making it great for boosting creativity. Puff pass paint classes are a great way to get the job done. Below, we look at more weed painting ideas.
1. Paint and Edibles
Here, we sub out the cannabis flower for marijuana edibles. This can be a fun suggestion in that it lends itself well to hosting. If you know how to make edibles, consider making some cannabis-infused appetizers or desserts for your guests.
In some areas, you can find cooking classes and caterers for things like this. If you don't have access to that, or you simply want to save money, doing it yourself or seeing what the local dispensary has to offer are both good alternatives.

Have everyone eat the edibles at the same time and make a night of it! Paint whatever your heart desires and have fun!
2. Sips and Smokes
Descriptive as the name is alliterative, a sip and smoke painting night combine everyone's two favorite ways to relax into one laid-back evening. Hey, you won't be the first artists to pair painting with alcohol and stir in a little cannabis smoke. Hopefully, the creativity will start to flow quickly. If it doesn't, the wine certainly will.
Sips and smokes are an idea that can be paired with any of the other painting concepts we've discussed until this point. Alternatively, you can allow yourself and your friends to cut loose on their own thing.
3. Cannabis-Infused Painting Class
Cannabis-infused painting classes are an excellent way to flex your creative muscles in a fun, controlled environment. Unfortunately, these are not legal everywhere so see what your community has to offer.
While your area may not have a designated cannabis-infused painting class, they may have opportunities where artists will come to your house and provide instruction. Consider contacting a local artist in your community and finding out if they are comfortable teaching a cannabis-infused painting class.
4. Cannabis-Infused Painting Class…Videos
Maybe not as exciting as going to an in-person class, but a pleasant (and probably free) alternative for people who don't have access to other options. Give it a Google.
There are many free painting classes available on most major video streaming services. Find one that emphasizes sips and cannabis, or simply select your favorite and add the cannabis yourself.
5. Paint a Bong Flower Vase
This is one of our more popular Puff Pass and Plant prompts that people like to do. First, you'll paint a blended background. Once it dry, you paint a darker base that the vase will appear to sit on. You will then carefully draw the outline of the bong vase and flowers. Make sure to paint the stems first so you can make it look like they are sitting inside it like a vase.
Things to Paint With Friends
Painting with friends is a fun way to pass the time. All of our things to paint with friends' ideas can be infused with cannabis or wine to suit your tastes, or taken as is.
1. Themed Self Portraits
A fun twist on a classic art project. Themed self-portraits can go any direction you want. Paint yourself as a superhero, or a Tim Burton character, or anything else you want. The only limit is your imagination.
2. Paint Each Other
This prompt can get a little controversial if one of the artists decides to be unflattering. Still, painting each other is a good way to have fun paint night with friends night. Plus you can guarentee a lot of laughter once you're done.
3. Paint Your Day
Consider asking your friends to paint an image that represents their day. This prompt is fun because it gets people to think outside the box. It also gives you a chance to discuss your day and what is going on in your life.
4. Paint Your Favorite Flag From Memory
This is a silly game but it can be fun with the right set of conditions. Pick an item—state flag or otherwise—and have your friends paint it from memory. Bragging rights go to the person at the end of the night who produces the best representation.
5. Paint A Scene From Your Favorite Book
This prompt is fun because it can be as abstract as you want and it can play out like a miniature game of Pictionary if you want it to. Paint a representation of a favorite scene from a book or movie, and use it as a jumping-off point for laughs and discussion.
Paint and Sip Ideas
Wine and art have a longstanding association. There is something very classy and relaxing about wine and paint events. They are great for a lady's night out, or a fun couples event. And, of course, cannabis can always be stirred into the mix to spice things up.
1. Paint Your Pet
Gotcha! Not your actual pet, but print out your favorite picture of your pet. Your pet might be a cat, dog, bird, fish, cow, anything! Painting animals or pets often works well both because people feel passionate about their animals and because it has the potential to produce a memorable keepsake.
2. Painting Wine Bottles
It suits the theme, doesn't it? Painted wine bottles are something of a hot décor item right now. A sip and paint night is the perfect opportunity for this DIY craft for the simple reason that you will already have all of the materials on hand.
A quick Google search will give you ideas for how to tackle your project. Alternatively, you can just let loose. There is no right or wrong way to paint a wine bottle.
3. Paint Your Home
Again, not your actual house. Unless your friends are handy and receptive to free labor. Paint your dream house or if you currently live in your dream house, well then, just paint it! House portraits are a popular home decoration, and a nice keepsake.
4. DIY Class
Simply in the spirit of saving a little cash (the requisite cheese appetizers won't pay for themselves, after all) you can also do a version of paint and sip at home. Google an instructional video, or simply pick a prompt and let everyone have at it in their own way.
5. Your Favorite Place
This one will mean a lot to you. Take a picture of your favorite place or the place you had your best memories. If it's a complex place with a lot of objects, simplify it and paint the things that mean the most to you in that place.
Beginner Easy Paint Night Ideas
Everyone starts somewhere, right? Easy, beginner paint projects are a great way to have fun and begin to refine your skills as an artist. Below we have five projects that all fall into the beginner range.
1. Ocean
The ocean is another great beginner prompt because it allows you to get as intricate or simple as you want. The skilled artist can devote hours to capturing all of the nuance and artistry that describes the sea in a storm. Beginners can get away with painting something blue. Get as creative as you want and have some fun with it.
2. Trees or Flowers
What artist hasn't painted a tree or flower? It's a good prompt because they are beautiful and also accessible. Look at your window right now and there's a good chance you will see some of each.
Another nice thing? You can pick your subjects based on your skill level. Are you a total beginner? Maybe you want to go with something simple but stunning. A large sunflower perhaps. Or maybe you have been around the block a few times. For you, it might be time to bring the intricacies of a rose to your canvas.
3. Sunset or Sunrise
Everyone loves sunsets and sunrises. In painting, they are great because they give you a chance to bust out some of the most vibrant colors on your pallet. Perhaps for that reason, even novices can create a beautiful picture simply by getting the right splash of colors on the page.
Painting a sunrise or sunset is always best with an active subject, so consider having your painting session outside at the right time of day.
Alternatively, you can paint from memory, or use a picture.
4. A Self Portrait
Take an entry-level art class and the self-portrait will inevitably be one of your first assignments. It's not the easiest project in the world but it can be enlightening. For one thing, it allows the artist to see themselves in a new light.
You'll notice new things about your face as you try to bring it to life on the canvas. Self-portraits are also a great way to flex your creativity a bit. You can always feel free to add creative flourishes that describe your personality.
5. A Silly Still Life
Even more entry-level than the self-portrait is the still life. Every new artist will inevitably be given a bowl of fruit and be told to paint a picture of it. It's a little played out but it is a great way to learn many of the basic skills down. To keep things fresh, consider making your still life subjects silly or unique.
Unique & Fun Painting Ideas
Of course, paint nights are unique enough in their own right. However, if you are looking for ways to spice things up further, consider some of these unique and fun painting ideas.
1. Marble Paintings
You can make marble paintings with a few simple ingredients. Get a paint pour kit or use a very fluid paint. Set up your canvas, mix your paint, and pour on. If you're feeling really risky, try putting the canvas on a pedestal and spinning it as you pour on the paint.
2. Stain Glass
As the name suggests, stained glass painting replicates the style and color scheme of the classic stained glass window. You can get pre-outlined pages that follow this format or do it yourself to add a personal touch.
3. Water Color Painting
Watercolor painting is a time-honored tradition that produces attractive results even for beginners. The pictures are both unique, and accessible to people who don't have a background in the arts. Watercolor supplies are available at any craft store.
4. Splatter Paint
As the name suggests, splatter paint involves..splattering paint. It's fun, it's messy, and it's a great way to let your inner child loose. Just make sure you set up a carefully protected space before you begin throwing paints around.
5. Pendulum painting
Pendulum painting involves setting a pendulum up over the page and allowing it to pass back and forth with an affixed paintbrush. This technique creates attractive, distinct patterns that look great on the page.